KINMEN PORT TERMINAL
Kinmen Island, Taiwan / 2014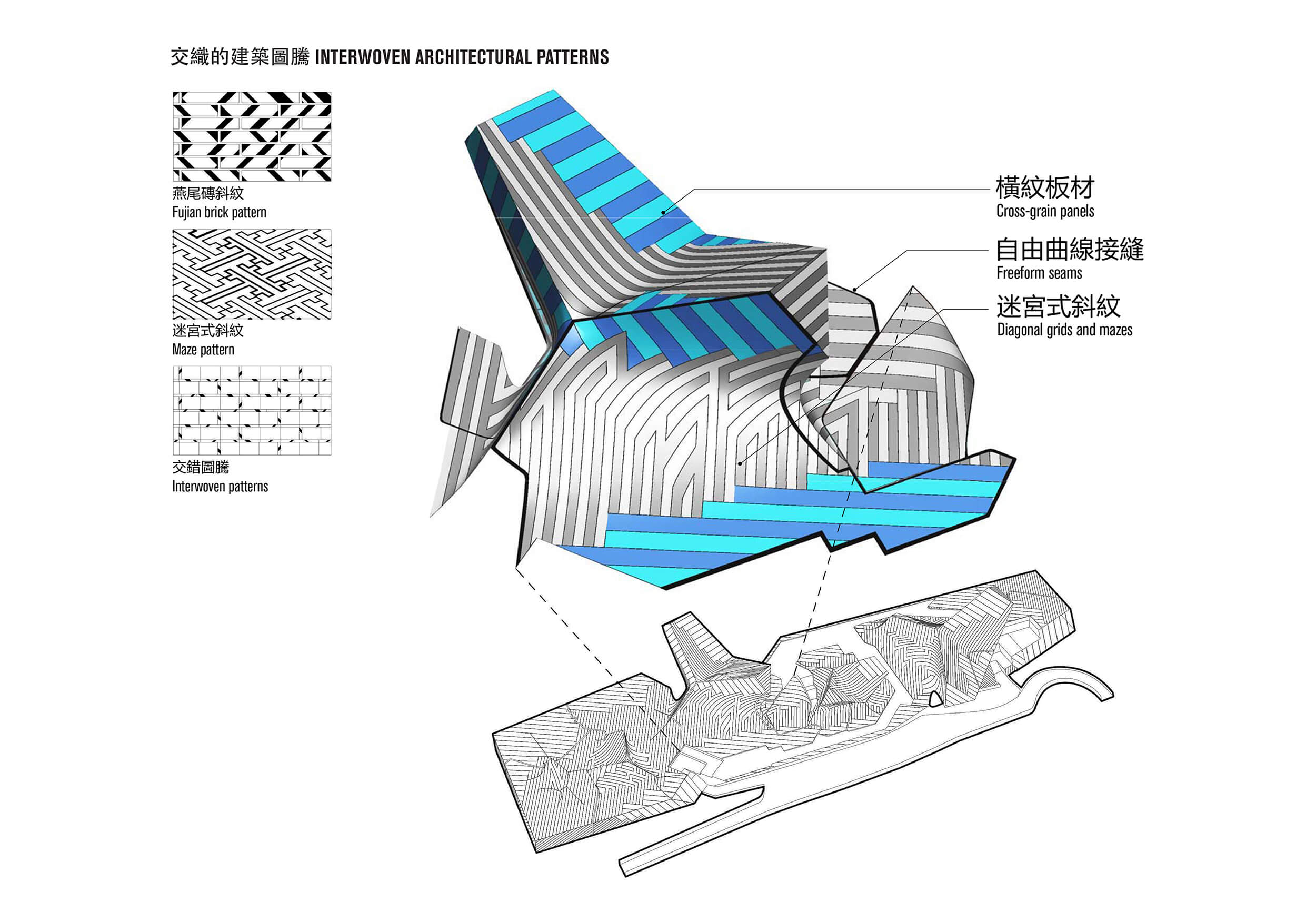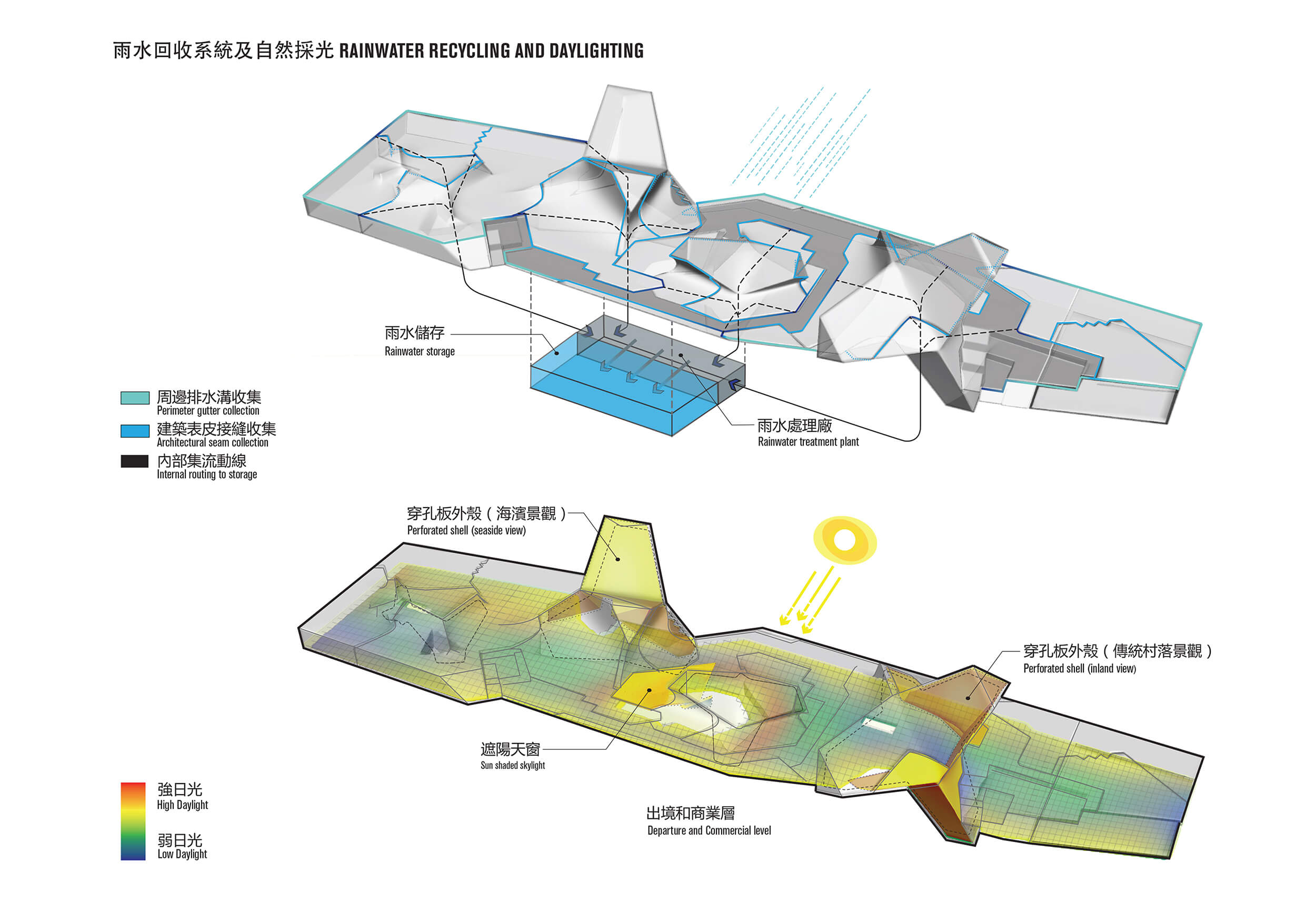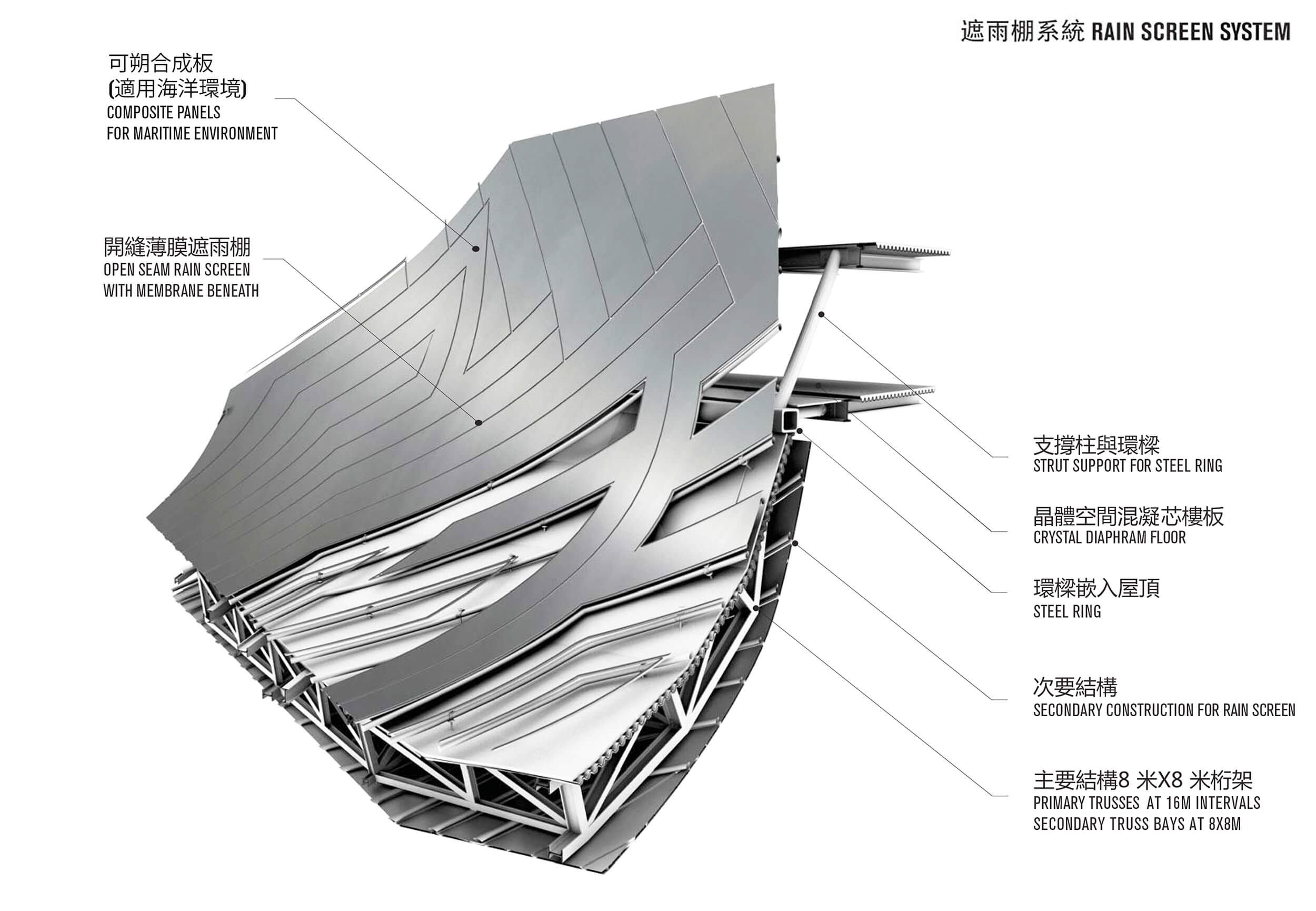 More than a piece of infrastructure, this proposal for the Kinmen Port Terminal is a cultural intervention intended to symbolize a new era of communication. During the period between 1949 and 1992, Kinmen transformed from a quiet island into a military front line, radically changing its character and way of life. Its ground became an active three-dimensional network of subterranean bomb shelters and sea tunnels for defending citizens and ships, while its surface was hardened by military installations. Communication during this era of tense Mainland-Taiwan relations consisted of physical shelling and visible propaganda slogans and lines of tanks along opposing shorelines. Today's Kinmen, with its recent cross-strait trade agreements and newly planned transit routes, presents an opportune moment to build an architectural icon that signals freedom and possibility.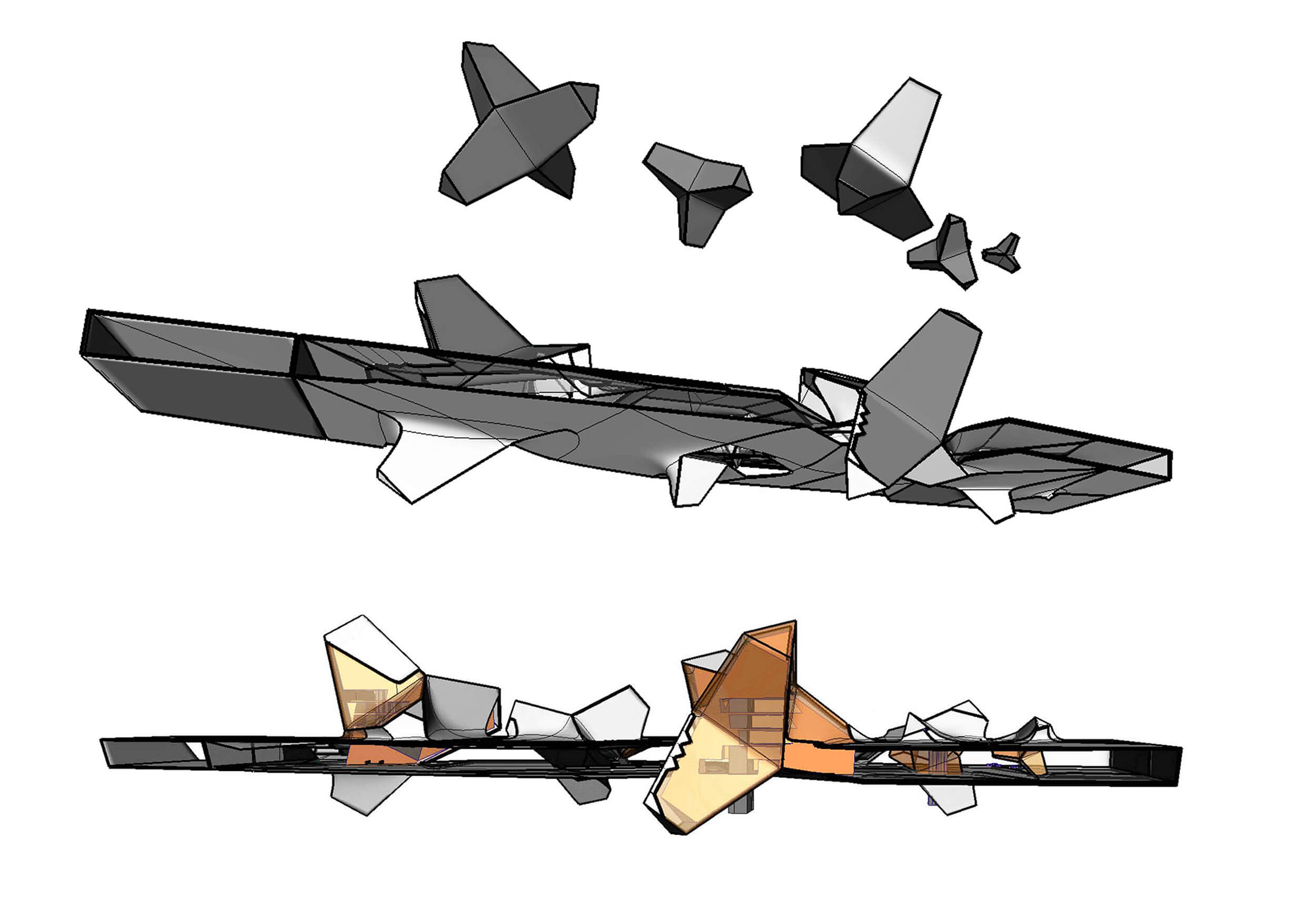 Nested Objects and Vicarious Contextualism
The building design is based on five rotated and scaled 'jacks' – three-dimensional objects that allow for multiple orientations – nested into a hovering horizontal box. The box stretches to form-fit around the jacks, creating serene transitions from horizontal to vertical and from hard to soft. From the Chinese mainland, the building appears simultaneously as a series of objects and a new monolithic object. The strong silhouette of the terminal roof forms a gateway ("Kinmen" literally means "golden gate"), but it also loosely relates to the swallowtail and saddleback roof shapes characteristic of the island's Fujian architecture.
On the interior, vaulted sectional spaces are created between the jacks and the loose-fit outer shell of the terminal. The jacks are arranged in plan and section to naturally organize flows of people on the arrival and departure levels, providing an automatic sense of orientation along with a memorable sequence of compressed and expanded spaces. Inside, the jacks function as sub-enclosures for various programs, such as commercial space and restaurants on the departures level and administration and ship traffic control on upper levels. Passengers shopping or relaxing on the jacks' upper levels can look down into the bustling terminal below, which features a cornucopia of colors—including reds, oranges, yellows, and greens—to resonate with the island's lush vegetation and colorful birds. The terminal roof becomes a new ground for community and cultural events, and features a green public promenade with views of the sea. While the rooflines, colors, and new ground signal to the surrounding community and context, they refrain from literally mirroring or connecting to it; the project retains its legibility as a specific, discrete thing operating according to its own secret rules.
Mazes and Composite Materiality
The envelope design is characterized by three interfering patterns: freeform seams, maze-like projections, and cross-grain panels. The simultaneity of these patterns produces a heterogeneous overall effect reminiscent of local Kinmenese brickwork, with its distinctive diagonal striping and unconventional juxtapositions of material scales and orientations. Like the Fujian rooflines, these local material patterns creep into the project indirectly, as familiar qualities grafted into an otherwise abstract entity.
The maze-like patterns defy conventional standards of industrial production at building scale. What appear to be typical metal panels on the exterior are, in fact, materially impossible to achieve in metal due to their shape and size. Instead, the building is design to be constructed of composite super-panels that are electro-chemically metallized, delivered to the site by barge, and lifted into place as if assembling a giant toy model kit.
Client: Kinmen County Government
Type: Port Terminal
Floor Area: 42,000 SM
JV Partner: Fei & Cheng Associates
Structural: Greg Otto, Walter P Moore, Paul Chen, Supertech Consultants International
MEP: Gene Lin, Heng-Kai Engineering Consultants
Landscape: VISION
Renders/Animation: Kilograph (Image 1, 2, 6, 7, 12, 23)
---