Who we are.
Tom Wiscombe Architecture is a full service architecture studio that specializes in civic, cultural, entertainment, workplace, residential, and infrastructural projects. We are a deeply committed group of designers who pride ourselves on our ability to discover surprising things and build new relationships in each of our projects. Our work, recognized by professionals and academics alike, is known internationally for its playful approach, powerful massing, alluring graphic qualities, and tectonic inventiveness.
Founded by Tom Wiscombe, AIA, TWA has developed its reputation through innovative built projects, winning competition entries, and exhibitions of work at major cultural institutions. The office's work is part of the permanent collections of the FRAC Centre Paris, the Art Institute of Chicago, MoMA San Francisco, and MoMA New York, and has won several AIA Design Awards.
Read More
Read Less
Our design and construction expertise stems from years of close collaboration with the best engineers, detailers, and contractors in the world, including Bollinger + Grohmann, ARUP, Buro Happold, Walter P Moore, NOUS, KGM, DBM Vircon, Permasteelisa, Josef Gartner GmbH, Mauer-Sohne AG, Vinci Construction, Meinhardt, Supertech, Hathaway-Dinwiddie, CIG, UAP, Zahner, and Kreysler Associates. We understand the great value of collaboration, and our leadership style of authenticity, flexibility, and open communication helps us bring out the best in all of our partners.
What We Bring to the Table.
We bring leadership in the latest building technology, energy efficiency, and digital craft to each project. While we are primarily known for our iconic design work, our office is also committed to research into new workflows, energy sources, materials, and methods of construction for the 21st century. Each project is developed meticulously in a three-dimensional environment to control form, coordinate systems, and visualize construction sequencing. We are steeped in methods of collaboration on federated models, using Tekla, Catia, and other BIM systems, and how to build teams and processes around these contemporary platforms.
Read More
Read Less
Comprehensive Building Design
We pride ourselves on our ability to synthesize complex sets of design criteria and resolve them in unexpected, creative ways. We move fluidly between programmatic layouts, structure, parking needs, phasing, advanced envelope design, active and passive MEP design, lighting, and landscape, cost estimating, and construction sequencing. While we work with outside partners for our engineering and consulting needs, we posses deep knowledge of the fundamentals of each discipline which allows us to lead, control process, and manage cost effectively.
Envelope Design
TWA is a leader in the design of complex and innovative facades in glass, aluminum and stainless panel, FRP, and composites. These allow us to create specific architectural effects while maintaining economical, sustainable, and highly functional total integration of systems. We are particularly interested in how the global construction industry allows for high-quality and cost-effective production of large pre-fabricated components, delivered to sites everywhere. This has fundamentally changed the procurement environment, and TWA is uniquely positioned to leverage its global experience in this capacity.
Planetary Energy
At TWA, energy-intelligent design is an imperative. Every project strategically connects ideas about form and space to opportunities for daylighting, natural ventilation, and carbon-neutral sources of planetary energy. Principal Tom Wiscombe's extensive architectural experience in Europe translates into deeply integrated thinking about sustainability as a basic element of good design, and results in sophisticated, highly functional passive systems that do not intrude on the aesthetics or user experience of the realized design.
Our expertise includes planning and implementing cutting-edge energy systems, including ground-source heat exchangers, radiant heating and cooling, stack effect with night-cooling dampers, innovative radiant hydronics, and solar PV and film. We stay current in green building codes and best practices as these continue to develop internationally, as well as with the National Green Building Standards in the U.S. The Dark Chalet features a fully integrated solar system designed by TWA in conjunction with the owner, founder of the largest independent solar power developer in the United States. It involves the conversion of commercial grade solar infrastructure for residential applications to allow for breakthrough solar opportunity, ultimately resulting in a building that is 362% energy positive. Net-zero is so yesterday.
International Practice
TWA has experience with international and local planning and code authorities as well as different methods of project delivery used in the United States, Germany, Austria, France, the Middle East, Korea and China. We also have extensive experience working with Executive Architects on joint ventures in international settings, and with the Design Assist project delivery method, which brings builders in early to collaborate. Previous to the founding of TWA, Principal Tom Wiscombe had a ten-year career at Coop Himmelb(l)au, where he was both Project Partner and Chief Designer for four major projects, totaling 150,000 square meters (1.5 million square feet). The total construction value of these projects is over $750 million USD. He brings this experience to bear on the work of TWA by 'seeing around the bend', and leveraging his global professional network.
Lyon Musée des Confluences, Lyon (2001-2014)
Link
BMW Welt, Munich (2001-2007)
Link
Akron Art Museum (2001-2007)
Link
UFA Cinema Center, Dresden (1994-1998)
Link
How we think.
We privilege mystery and the ability of architecture to allure, vex, and resist. To these ends, we consistently discover opportunity in the disciplinary study of mass, interiority, ground, aperture, and surface articulation— and in particular, in how these architectural elements can be broken apart and made to resonate with one another. We refer to this as the architecture of a flat ontology, where architecture is made of discrete entities that exist equally but differently. This position avoids both classical part-to-whole unities and the generalizing contemporary paradigm of flows, flux, and becoming in favor of the specific architectural object.
Read More
Read Less
Our method is based on "models:" three-dimensional entities that precede exposure to the contingencies of program or site and embody specific ways of seeing the universe. The models that most fascinate us are low-resolution, almost primitive figures such as jacks, stacks, crystals, ziggurats, tesseracts, objects inside objects, misfit objects, and loose-fit enclosures. Rather than being drawn from the world, these entities exist as worlds in their own right, contending with the fundamental relationship between container and contained in an intensely disciplinary way.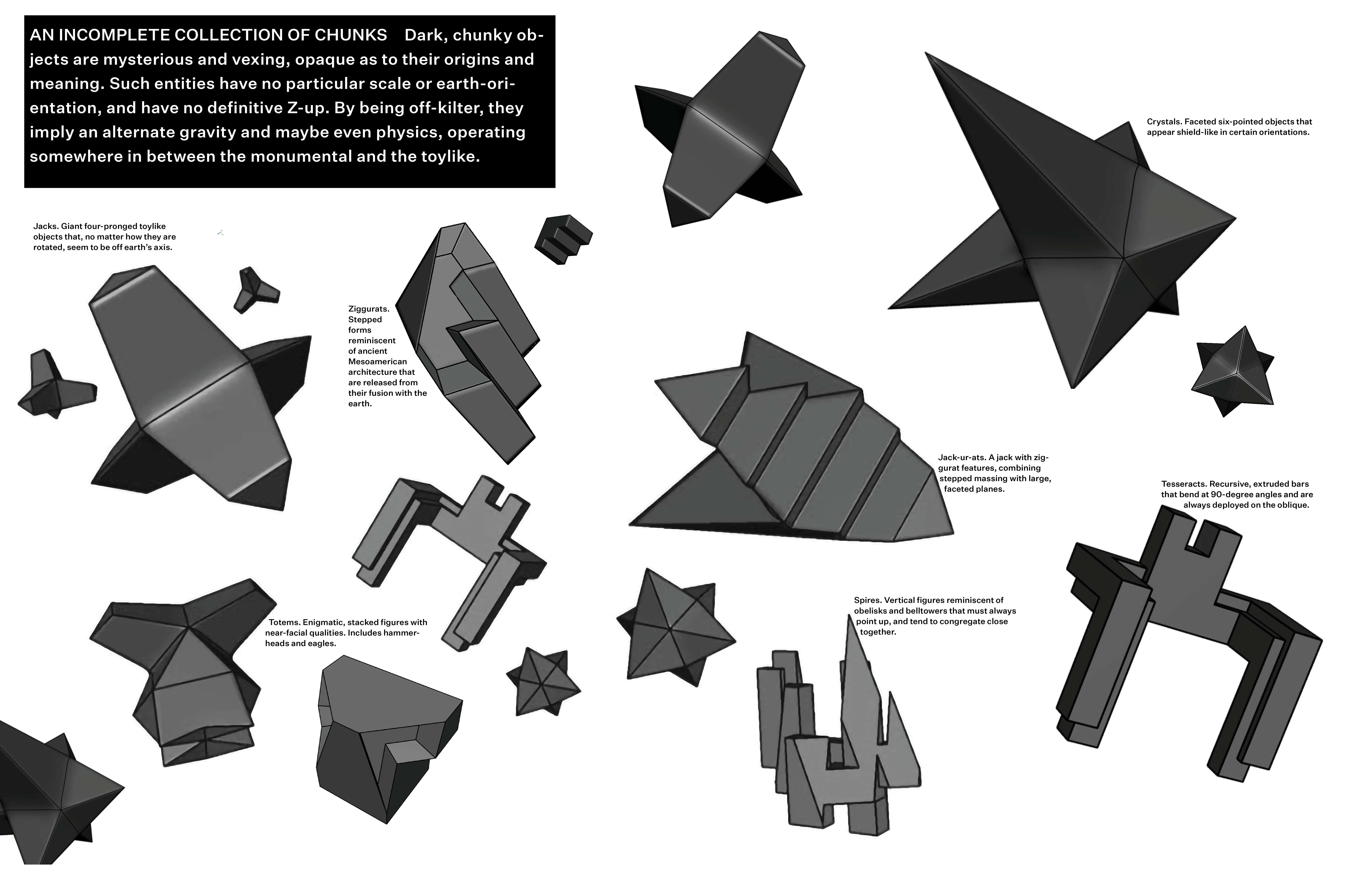 Ground in our work is treated as architecture rather than landscape. Our building masses do not fuse with or otherwise disappear into the ground, but remain discrete from it using strategies such as hovering, nesting, or otherwise deferring a "landing." Entry becomes a strategy for leaping between worlds rather than a smooth transition from outside to inside.
Finally, our work attempts to move beyond general envelope logics such as panelization and toward specific figuration. Like tattoos on the body, figuration on building skins can simultaneously interact with underlying form and deviate from it, creating ambiguous scale effects and links between architectural parts. Tectonics have been identified for too long with either material phenomenology or literal expression of performance. We argue, instead, that the beauty of tectonics is its ability to create fictions, confounding expectations of material or scale.