SUNSET SPECTACULAR
West Hollywood, California / 2020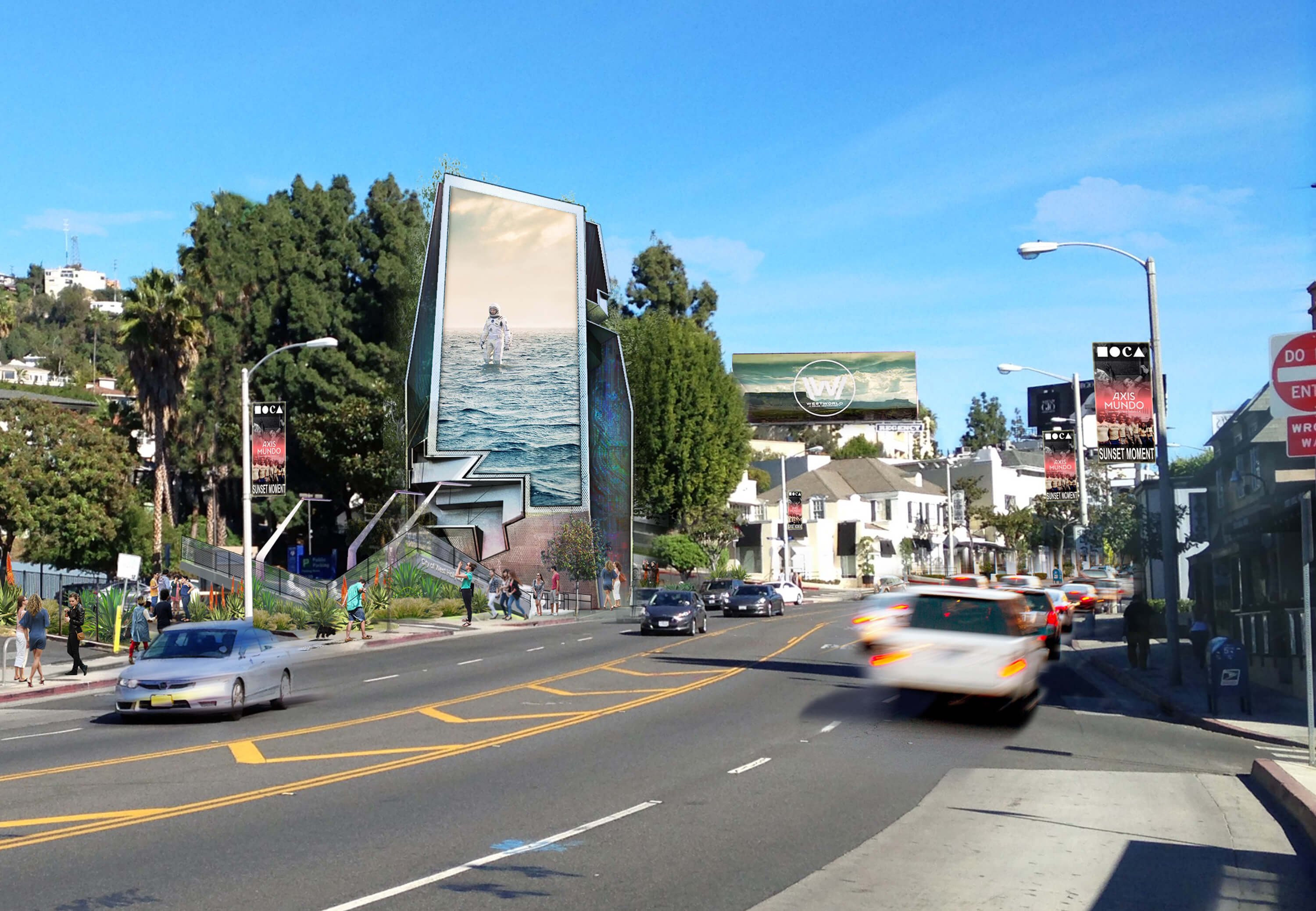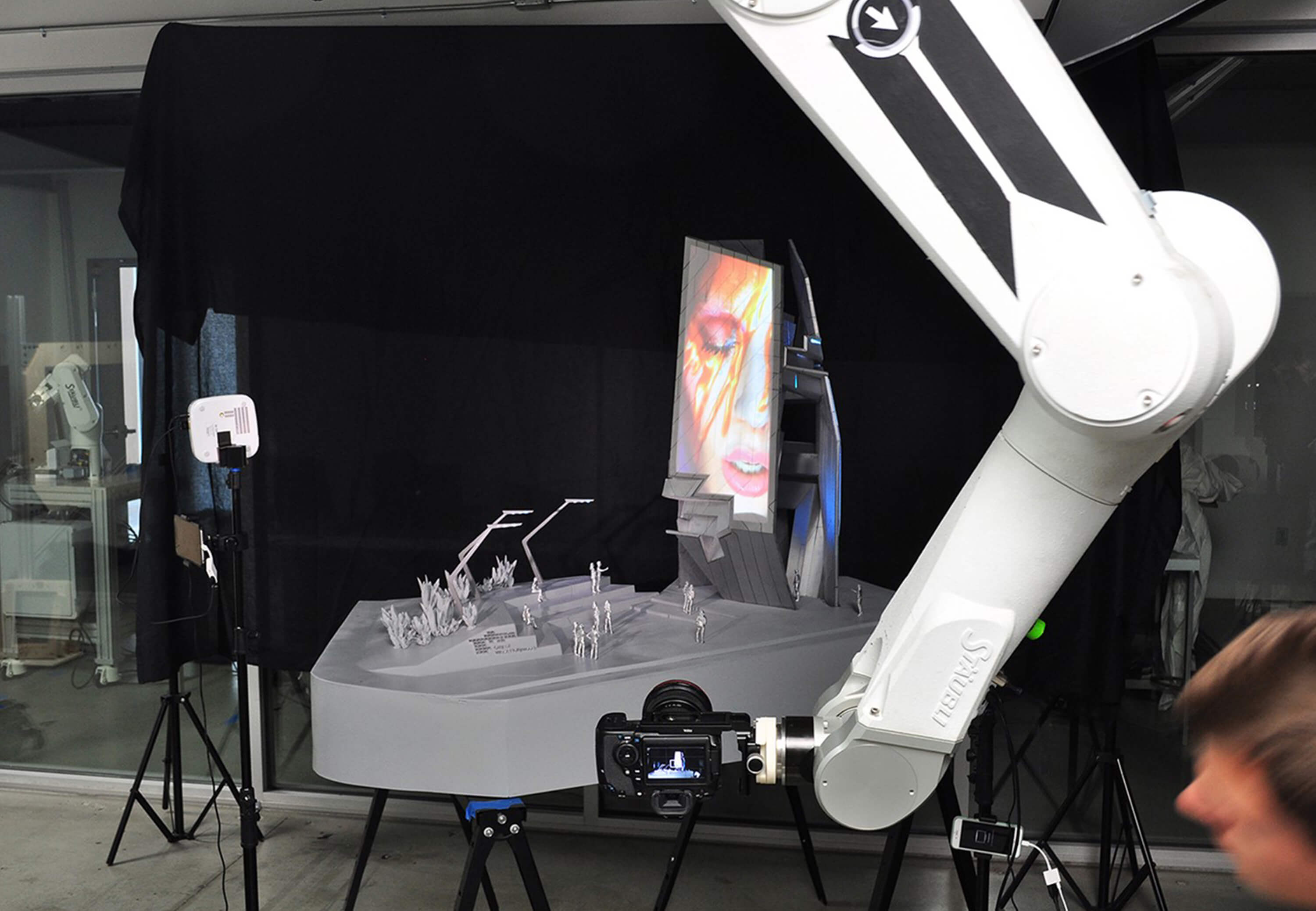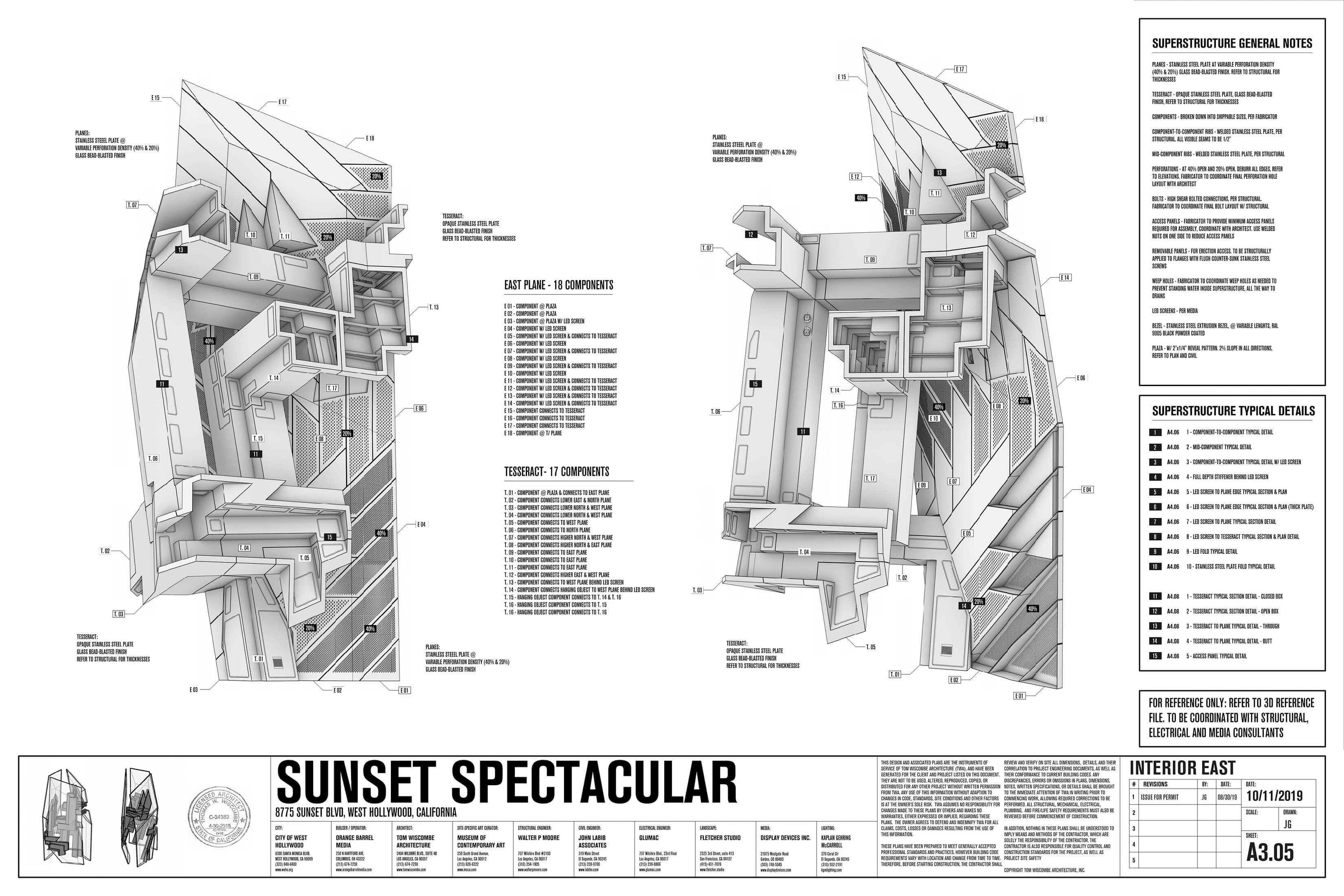 The West Hollywood Sunset Spectacular is a multimedia billboard for the 21st century. It is conceived of as four giant parts: three outer planes with a "tesseract" nested inside. The tesseract is tilted, seemingly oriented to align with something other than earth's gravity; it intersects the outer planes, creating giant figural involutions. The entire structure is subdivided not into the sticks and panels of human scale, but rather into chunks resembling oversized puzzle pieces, each built to stack and assemble with little human labor. Rather than being defined by an entrenched architectural hierarchy of mass to detail, the project maintains a consistently low resolution relative to the human scale, as if it had been created by much larger beings. It sits on a ground that peels up off the land like a magic carpet, defining a discrete world nested within the city.


Signalling to Archetypes
The Sunset Spectacular avoids the ubiquitous "sign-on-a-stick" billboard typology in favor of something spatial and interactive. Like ancient bell-towers, clock-towers, and obelisks, the project's vertical orientation connects it to a deep urban archetype associated with civic space and community engagement. For pedestrians, the tower's interior draws the eye up and away from the horizontal continuum of the Sunset Strip. Drivers, however, are afforded only a momentary glimpse of the tesseract nested inside, creating a sense of mystery as they pass. The project is ultimately asignifying yet engaging, an aim of all of our projects.


Interfacing
The Sunset Spectacular is linked to the City of West Hollywood through an inviting public square where pedestrians can convene. The Museum of Contemporary Art (MOCA) will curate sustained blocks of multimedia art commissioned to be displayed on the tower and its grounds, producing a comprehensive and surprising urban experience. When the square is used to host cultural or pop-up music events, the Sunset Spectacular can serve as a live-feed backdrop. Other times, when it is in rest mode, background programs like "color-sampling" or "going to sleep" come on-line, creating a serene environment of light, color, and sound.

Location: West Hollywood, California
Site Area: 13,600 SF
Program: Digital Billboard and Civic Plaza
Client: Orange Barrel Media + City of West Hollywood
TWA Project Manager: Jose C. Garcia
Structural: Walter P Moore, Los Angeles
Civil: JLA, Los Angeles
Electrical: GLUMAC, Los Angeles
Geotech: Geotechnologies, Los Angeles
Landscape: Fletcher Studio, Los Angeles
Media: Display Devices Inc, Golden, Colorado
Lighting: KGM, Los Angeles

General Contractor: Arbib Construction Inc.
Superstructure Fabricator: Northern Manufacturing Inc, Oak Harbor, Ohio
Detailer: DBM Vircon, Vancouver, Canada
Electrical Subcontractor: Bauer Electric Services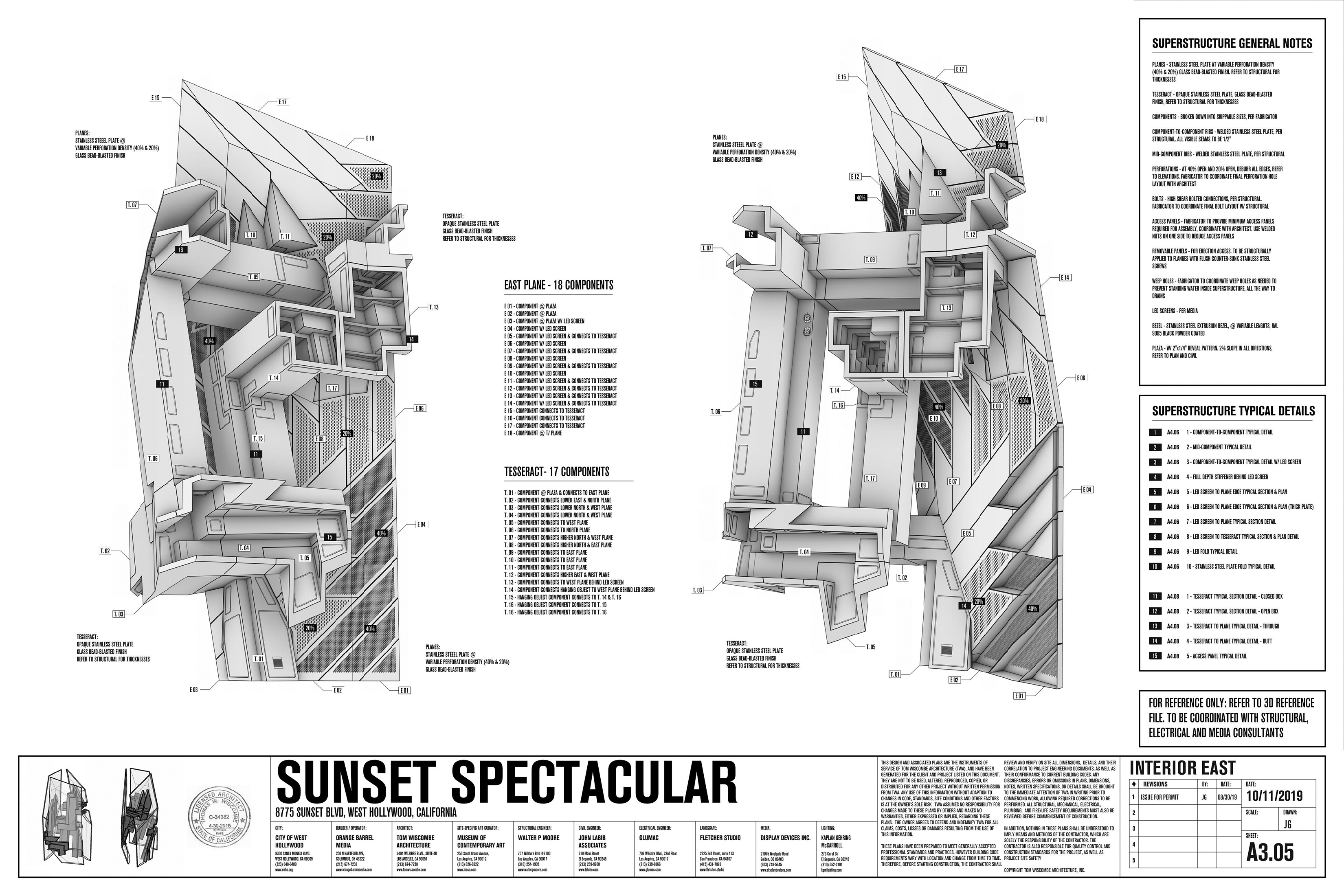 ---