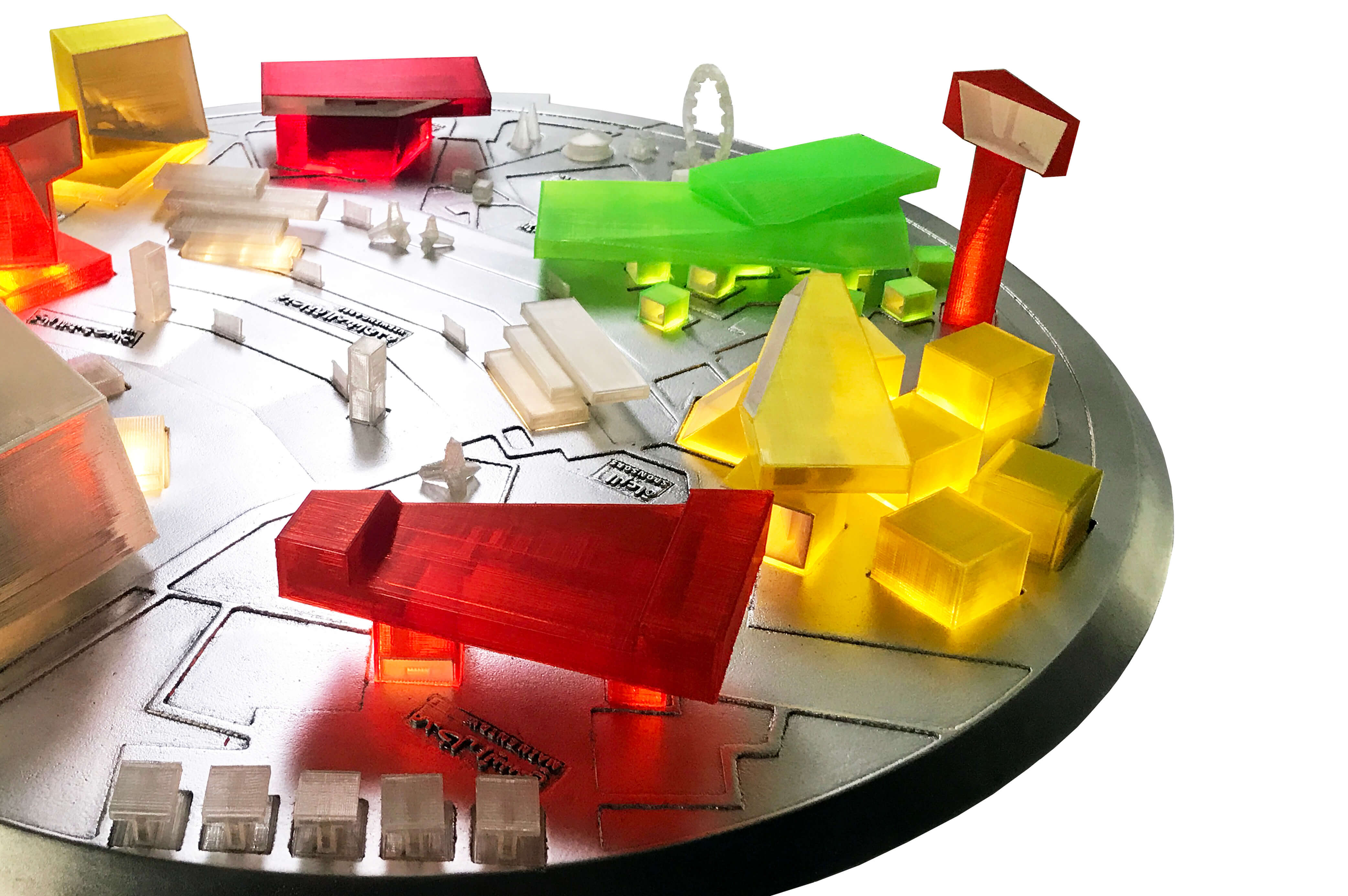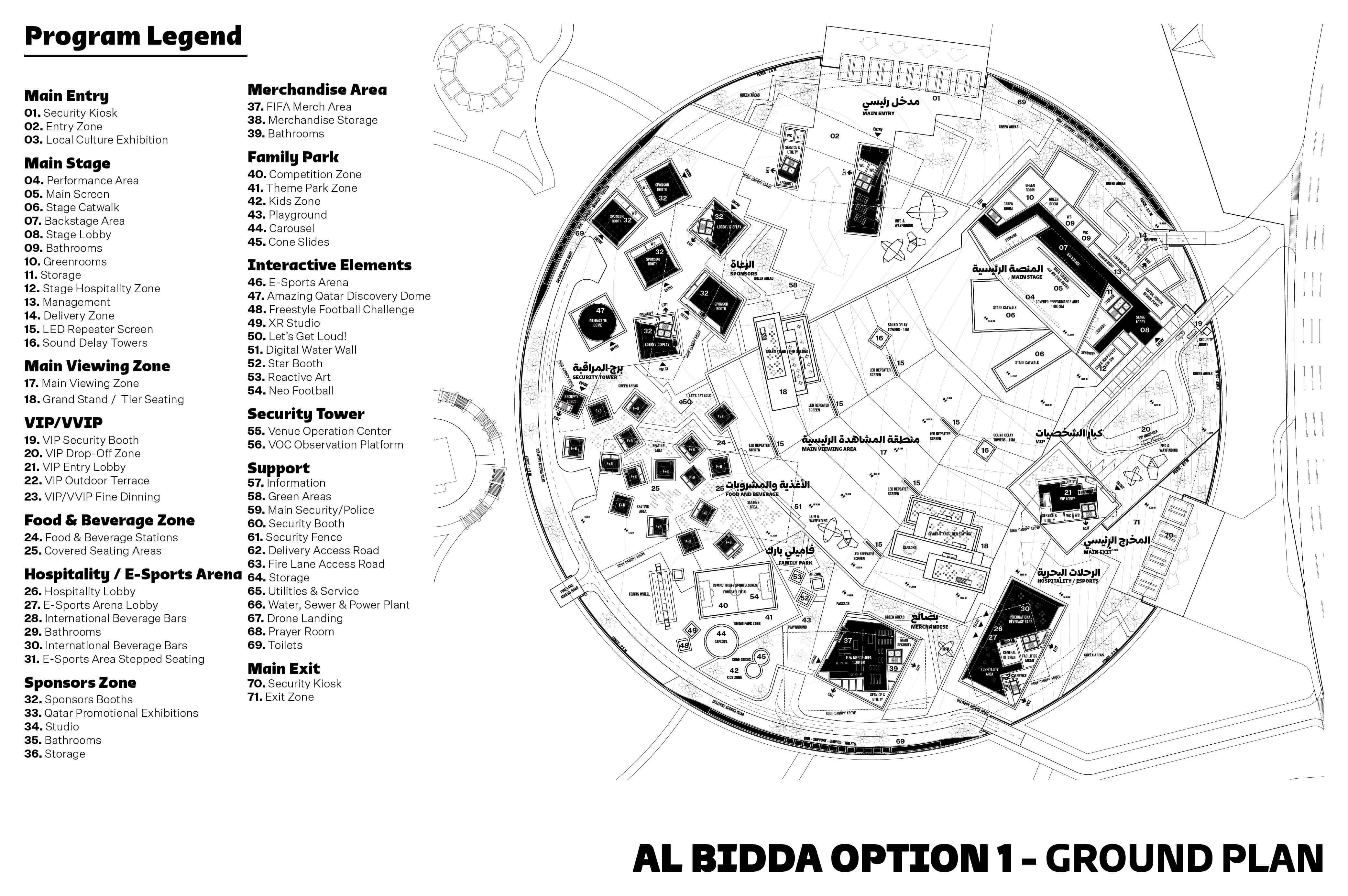 The Circle as Community
This proposal for the FIFA Fan Fest 2022 in Doha, Qatar is composed of strong masses bounded by a circular edge. The circle signifies fans coming together into tribes, groups, and cities, and reminds us of our deepest archetypal memories of the foundation of civilization, of our planet, and of the stars. The circle, which is 300 meters in diameter, is expansive enough to hold the planned 80,000 visitors at the largest site while still creating a sense of density and engagement. Within the boundary, a collection of very large and very small chunks, at different orientations, create a sequence of spaces that is memorable and distinct. Circulation moves vertically up into roofs and towers rather than the familiar sprawl and horizontal movement characteristic of such event spaces. Like a collection of treasures laid out on a table, the chunks frame a large central amphitheater while retaining their unique silhouettes.


Future-Ancient Architecture
The architecture is inspired by classical Qatari architecture- including the heavy masses of its palaces and the shaded overhangs of its domestic architecture. Buildings are made of simple, playful blocks and slabs, stacked on one another loosely to create overhangs and a sense of intimacy and shade. The focus is on indoor/ outdoor spaces rather than strict boundaries, and the creating of complex spaces defined by several blocks and slabs at different scales and orientations.

Oblique glance cuts into these stacks of blocks and slabs creates new objects with surprising shared figures. These figures act as openings and balconies, allowing views of the stage from both lower and upper levels. The inhabitable balconies break the known Fan Fest type, which is based on space planning. Three distinct types of space emerge: the main viewing zone, expansive and crowded; the areas of repose underneath broad overhangs where fans can still see the game, and the upper levels, containing hosting, exhibition, and VIP functions, which are separate, intimate spaces like box seats that have exclusive views of the stage.


Graphic Tectonics
Mass edges and figures are further emphasized through giant graphic lines and offsets that make the project appear to be either giant or miniature-- maybe the size of a toy—increasing the sense of play and wonder. The modular, 2-way truss construction and prefabricated parallelogram textile frames are suppressed in favor of this large-scale theatrical effect.


Audacious Media and Interactivity
The collection of buildings is overlaid by a beautiful blanket of digital LED and projections that show content not directly related to the FIFA games, such as the flora and fauna of Qatar. Mega-scaled, augmented-reality falcons fly overhead, and huge AR oryx walk among the fans and jump up onto rooftops. A drone swarm creates the FIFA emblem above the stage, showing it transforming from an infinity symbol to a circle, scaling up to match the 300M diameter project, before dropping and fading out.

Location: Doha, Qatar
Site 1 Area: 75,000 Sm
Site 2 Area: 25,000 Sm
SIte 3 Area: 30,000 Sm
Program: Festival
Client: Qatar Supreme Committee for Delivery and Legacy
Partner: AD Studio
Partner: Film Master
Media: Sila Sveta
Event Planning: Five Currents



---