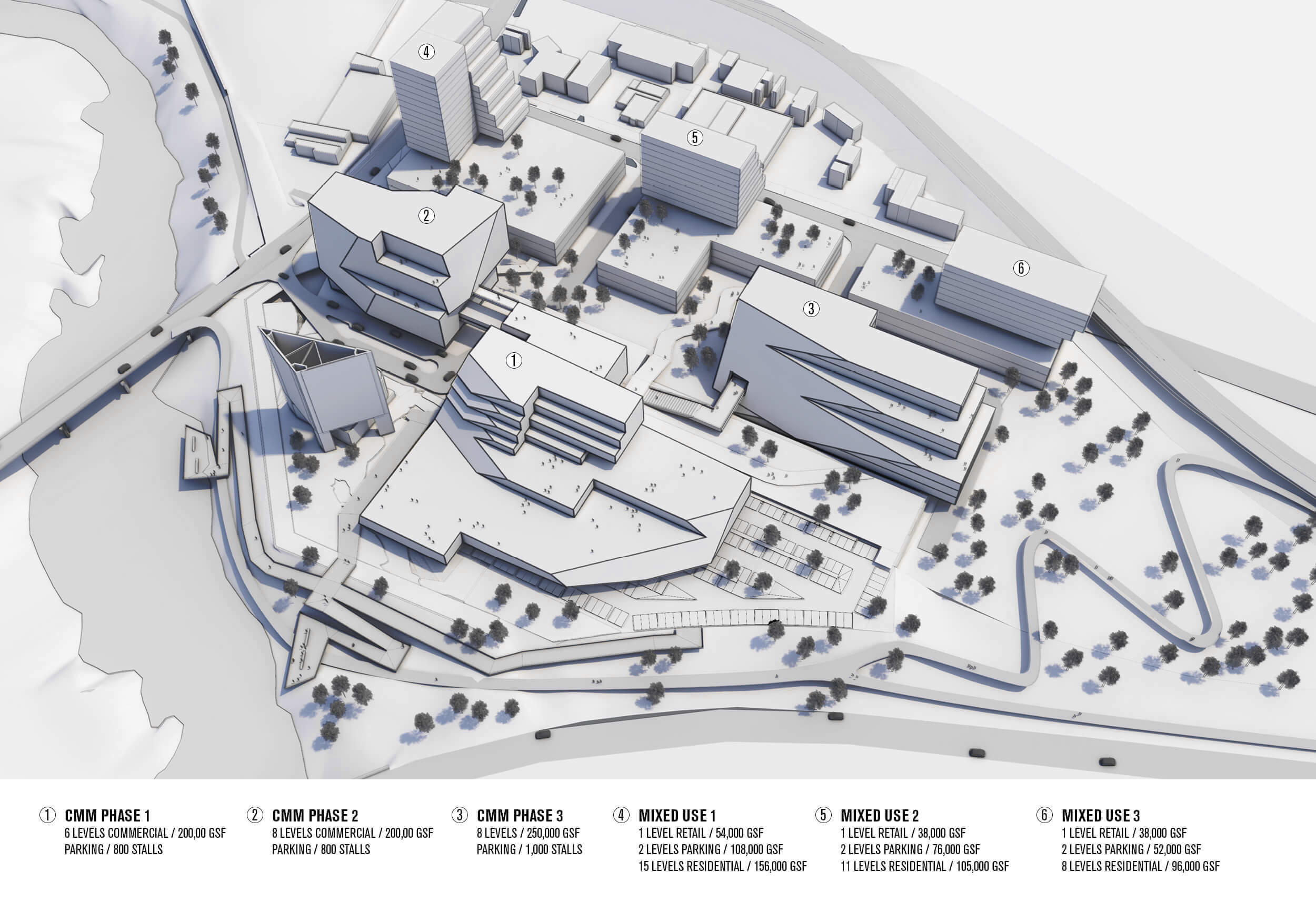 This shortlisted proposal for the Covermymeds Headquarters in Columbus, Ohio is located in an extraordinary site that allows for visibility to surrounding areas and downtown, as well as riverfront views and green space. The project is phased in two parts of 200,000SF each: Phase One is an expansive building that steps down to the riverfront, while Phase Two is taller and denser to allow for future development on the site.
The typology for Phase One is a hybrid of large floorplate creative space and a stacked mid-rise. The company's horizontal organization is reflected in the fact that upper levels are planned as conference and amenity spaces for use by all staff. The Second level, which contains CMM's community dining space, opens up via large glass sliding walls onto a panoramic green space that can house all of CMMs workers and affiliates for events and recreation. The space is a new ground for the city.

The interior is organized around a nested figure which contains closed functions such as private offices, call rooms, kitchens, cafes, copy rooms, and closed conference spaces. Open office spaces are located around, beneath, and on top of the nested figure. The resulting spatial complexity produces a workplace environment that is neither too open nor too compartmentalized, according to best practices for contemporary workplaces. The three-dimensionality and liveliness of the space promotes physical movement, communication, and well-being.

The Phase One and Phase Two buildings resonate with each other in terms of their low-resolution stepped and sliced massing, and double-skin façades that maintains their monolithic presence in the city. The two buildings are set in conversation with the existing tall Orange Barrel Media Headquarters building, a Columbus icon.


Client: McKesson / Covermymeds
Developer: Franklinton Development Partners
Design Architect: Tom Wiscombe Architecture
Architect of Record: Design Group
Builder: Corna-Kokosing